Countdown to The 11th Annual WE:LEAD Business Forum
WE:LEAD Annual Women's Business Forum
Every year, we host our Annual WE:LEAD Women's Business Forum ~ bringing women in leadership to share their expertise, knowledge, and advice to this wonderful networking opportunity. This event is open to all women in business in the Central Ohio Area. Invite a friend, a colleague, or a member of your staff and join us as we hear insight from local women in business and leadership in the Grove City Area.
Come enjoy conversation, break out sessions, lunch, networking and a little fun...
Thank you to everyone that sponsored, supported, and participated in our 2023 Women's Business Forum!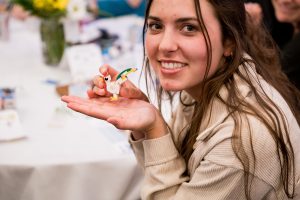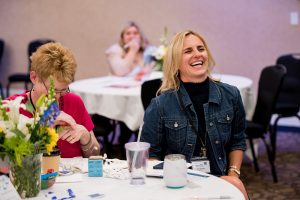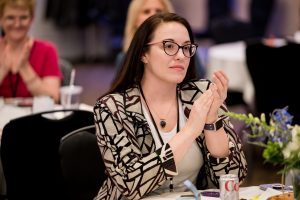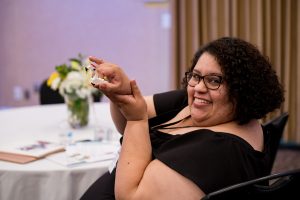 Every WE:LEAD event is supporting the Chamber Foundation. A portion of the proceeds from every ticket goes towards Scholarships for women in business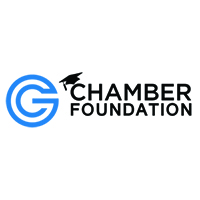 Our Future Female Leaders
Coming from a family that taught possibility rather than limitation, Vickie Thompson-Sandy has built a career in health and human services and quickly ascended to leadership roles within the not for profit sector. As a leader in non-profit, Vickie has centered her work on children and their families believing that communities are healthier when children are able to reach their full potential and remain within their family of origin; having services focused on keeping children not only safe in their own home, but better off because the child welfare agency came alongside them. In May 2019, Vickie joined The Buckeye Ranch in Grove City, as their first female President and CEO. The Buckeye Ranch is a not-for-profit organization treating children who have experienced trauma and have behavioral health challenges. As the fourth CEO in the 61 years of serving Ohio, The Buckeye Ranch has a robust continuum of services centered on three areas of focus – Child Welfare, Behavioral Health, and Educational Services. With multiple locations across Ohio, the agency serves almost 5,000 children annually through community-based services, day treatment, Transitional Aged Youth, child welfare services to kinship & foster care services, and residential treatment. In the first year in Ohio, Vickie has completed a strategic plan, reorganized three governance boards into one board of directors, and shifted the continuum of care structure to better integrate services for those served by The Buckeye Ranch. Coming from Metro Detroit as the organization's first female President, Thompson-Sandy guided a staff of nearly 1,900 in their quest to serve more than 16,000 clients annually, all driven by the belief that we have the innate ability to overcome obstacles by working together in community. "My personal mission is to empower professionals to see the strengths of all families and the positive impact that family and community has on healing." she says. "Our goal is to partner with children and families to figure out how they can overcome whatever obstacles are in their path. Children (in families) thrive when they are safe, loved, and supported in their journey of healing." In January of 2015, she became President of the organization, overseeing skilled nursing & rehabilitation communities, market rate and senior living, affordable living, home health and home care, foster care, adoption, preservation services, refugee resettlement and multiple community outreach programs. As well, she oversaw HR and IT functions as well as quality and care management for the organization. As the Vice President of Child Welfare services, Vickie integrated the continuum to include prevention, foster care, and adoption services leading the largest foster care and adoption agencies in Michigan. Using her health care experience, she launched the care management permanency model for child welfare that led to privatization of all child welfare services in a west Michigan county
Jennifer Stauffer, LISW-S
(she/her)
Senior Clinical Consultant, OhioHealth Well-Being Center
"How mindfulness and self-compassion can strengthen our inner resources to manage stress"
Introduction to Mindfulness and Self-Compassion and how these researched practices can be incorporated during our days to help manage difficulty as well as strengthening the good in our lives.
Jennifer Stauffer, LISW-S She/Her Jennifer has over 30 years of diverse experience as a social worker. Prior to joining OhioHealth Well-Being Center as an independent clinician teaching mindfulness and providing counseling, Jennifer worked the past 11 years at Nationwide Children's Hospital in Adolescent Medicine providing counseling and intervention for adolescents and young adults with substance use concerns. Jennifer enjoys meeting people where they are at, listening and supporting them on their path to get to where they want to be. Her approach is trauma-sensitive, strength-based, solution-focused, and includes mindfulness-based interventions. Outside of work, Jennifer enjoys spending time with her family, cooking, reading, spending time in nature, hiking, kayaking and most water activities. Areas of focus: anxiety, depression, grief/loss, life transitions, trauma, substance use, mindfulness[1]based interventions Education: • Master of Social Work, The Ohio State University • Bachelor of Arts, Psychology, The Ohio State University
Linda Pringle Evans
Owner and Founder, Pringle Consulting
"The Power of Asking"
This presentation provides women with the confidence and knowledge to position themselves for successful negotiation. As women we sometimes feel inadequate to ask for what we want. The Art of Asking covers the following:
Limiting Beliefs
Knowing Yourself
Identifying Your Why
Discover the What and How You Can Ask
Finally, why women should negotiate MORE
More about Linda Pringle Evans
---
Linda Pringle Evans is the Founder & CEO of Pringle Business Consulting, LLC (PBC) located in Columbus, Ohio. The mission of PBC is to provide economic development for Women entrepreneurs to grow and scale their businesses to generate 6 figures and beyond annually. Linda is a member of the National Small Business Association Leadership Council. A true advocate, she promotes the businesses of Women entrepreneurs by providing them with much needed resources and training to grow. 
Named Director of Education of Empowering a Billion Women (EBW) by its founder & CEO, Ingrid Vanderveldt allowed Linda to impact the lives of Women nationally and internationally. She advanced EBWs mission to support Women and accelerated their success in economic development and with execution strategies. She provided coaching, mentoring and enhanced a phenomenal staff of experts to execute her strategy.
Jennifer Kelley, PHR, SHRM-CP
HR Consultant,
My Business Resource
Jen joined My Business Resource, a human resources consulting firm headquartered in Grove City in 2020 as an HR Consultant.  She currently serves as Client Services Director, where she is responsible for leading strategic client conversations, guiding the team of HR consultants, developing new strategies, and ensuring that clients receive exceptional service at every touch point with My Business Resource.  Jen received her Bachelor's degree from Ohio Wesleyan University and her MBA from The Ohio State University and is SHRM-CP and PHR certified.  In her free time, you can find Jen on her Peloton bike, digging in the garden,
---
Presenting: "Gracious Gals Win; The Underestimated Strength of Kindness"
Women have often been accused of being too "nice" or too "kind" – in the business world especially, kindness has been confused with one's inability to make unpopular decisions, take a stand, and get things done.
We'll explore the roots of where this intrinsically false notion got started, how being nice is one of the most crucial business strengths today and explore ways to ensure our kindness is never mistaken for a lack of assertiveness.