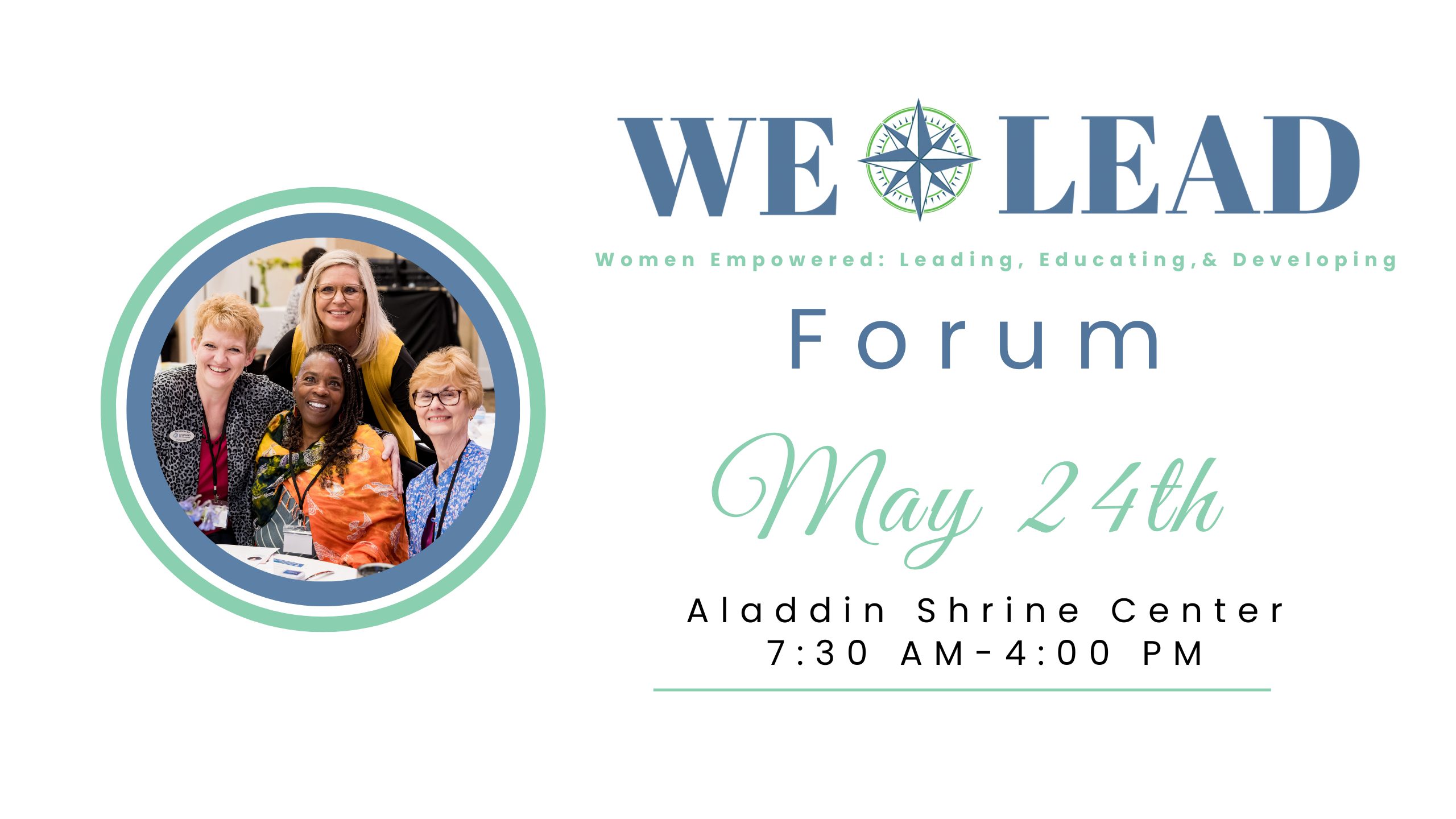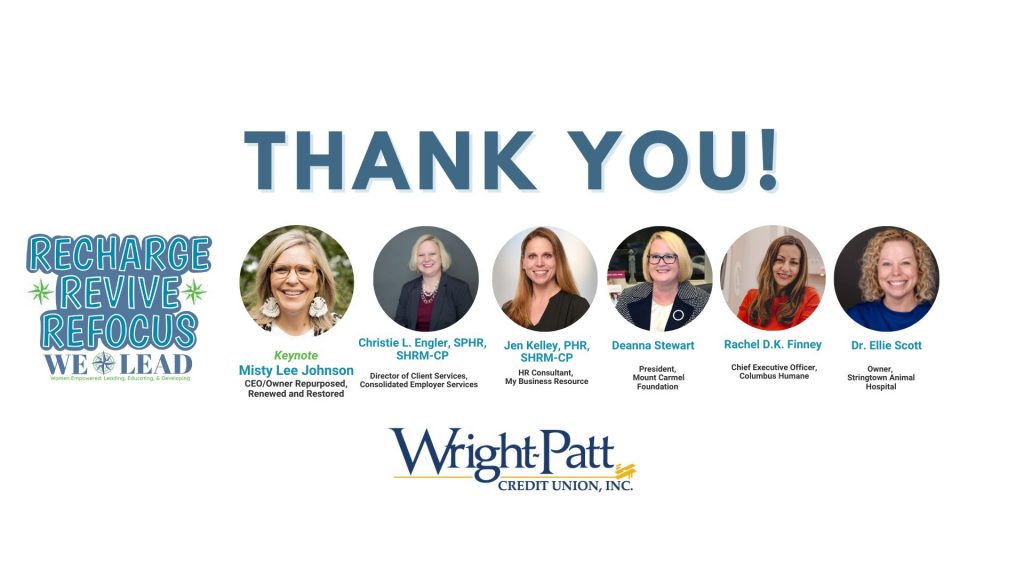 WE:LEAD Annual Women's Business Forum
Every year, we host our Annual WE:LEAD Women's Business Forum bringing women in leadership to share their expertise, knowledge, and advice to this wonderful networking opportunity. This event is open to the public, all women in business in Central Ohio. Bring a friend, a colleague, or even your staff and join us as we hear insight from local women in business and leadership in the Grove City area.
Come enjoy conversation, break out sessions, lunch, networking and a little fun...
Thank you to everyone that sponsored, supported, and participated in our 2022 Women's Business Forum! See you next year.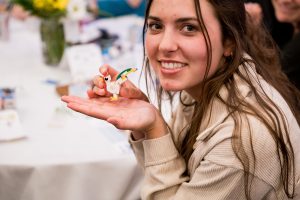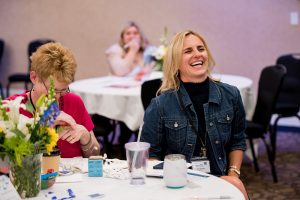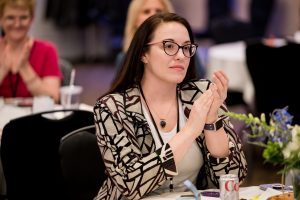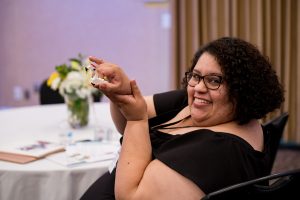 Every WE:LEAD event is supporting the Chamber Foundation, a portion of the proceeds from every ticket benefits the educational scholarship program.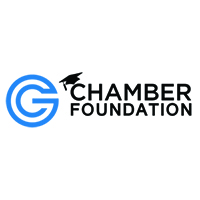 Misty Lee Johnson
CEO/Owner Repurposed, Renewed and Restored
Overcoming several obstacles including sexual abuse as a child and drug and alcohol addiction Misty Johnson has dedicated her life to encouraging and helping women of all ages and socio-economic backgrounds.
At the young age of 13, Misty began to discover an entrepreneurial spirit working as a receptionist for a boat captain in her hometown of Ft. Pierce, Florida. It was here that she began to dream of working her way out of the only life she had known: abuse, drugs and more abuse. Leaving home at 15, the need to survive and the entrepreneurial drive in her only grew from waitressing and bartending to cleaning houses and boats as a way to earn extra money. The lack of adult guidance and a wounded spirit left her living on her own but addicted and angry at the world.
After the death of both of her parents in 2003, Misty decided enough was enough and decided to live her life to make a difference!
Her message is clear across all platforms: "Yes, you CAN!"
Misty is a credentialed minister with the Church of God Cleveland, Tennessee, has served as a lay counselor for The United School of Ministry through The Potters House Church of God, served as the General Manager of Volunteers of America in Grove City, served as State Secretary and Treasurer for the Church of God in Ohio and has two businesses that she and her husband David currently own and operate.
She has been invited to share her story in churches of all denominations, women's retreats, business conferences and youth services.
Misty is a wife, mother of 4, and a Mamaw of 3. She will speak directly to your heart as she shares how you can see your dreams come true no matter what life throws your way!
Presenting: "Yes, You CAN!"
Deanna Stewart's 30+ years of experience as a senior executive in both private and not-for profit sectors provides her with a unique skill set that includes strategic planning, fundraising, marketing and financial management expertise. Over the past 15 years she has raised more than $800 million to support health, education and basic services in central Ohio. Deanna is currently the President of the Mount Carmel Foundation where she leads all aspects of Foundation management including oversight of a $142 million endowment. As a faith-based organization, Mount Carmel serves as a healing and transformative presence in our community with special emphasis on care for the poor and underserved. Deanna has also led fundraising teams at United Way of Central Ohio and The Ohio State University.
Deanna spent nearly two decades with AT&T starting as a front line Fortune 500 sales person and rapidly progressing to lead sales, marketing and business unit teams. As part of her leadership on a $15 billion Federal Government contract, Deanna oversaw the Bell Labs team responsible for design and management of a highly sophisticated integrated national network. She was an 8 time winner of AT&T's Gold Award.
Deanna is regularly sought after to serve on national planning teams. Currently she is a member of Trinity Health's Strategic Philanthropy Council and has served on United Way's National Millennial Engagement Team and OSU's President's Council on Women.
Active in the Central Ohio community, Deanna is a Trustee on the Leadership Columbus Board and a member of United Way's Women's Leadership Council and the Healthcare Businesswomen's Association. She is also a member of WELD, an organization that she helped found and where she served as President for three years.
Deanna earned her MBA in Marketing from George Washington University, her Bachelor of Science in Business from Longwood University and she is a graduate of AT&T's Leadership Development Program.
---
Presenting: "Invest In Yourself: You're Worth It!"
This presentation shares top ten ways to invest in yourself and covers both professional and personal ways of how to support your total well-being.
Rachel D.K. Finney is a Certified Animal Welfare Administrator with 19 years of experience in animal sheltering and 23 years of experience in nonprofit management.  Finney has degrees in nonprofit management, psychology, political science and sociology from Indiana University.
She began working in animal welfare as the Executive Director of the Union County Humane Society in Marysville, OH and currently serves as the CEO at Columbus Humane in Columbus, Ohio.   Before her animal welfare career began, Finney served in leadership roles at Junior Achievement of Central Ohio and with the Children's Organ Transplant Association.
In 2015, Finney was recognized as Small Nonprofit CEO of the Year by Columbus CEO magazine and in 2013, she was recognized as one of the youngest ever "Forty Under 40" award winners. Finney is a regular guest lecturer for nonprofit management, human resources and veterinary medical students at The Ohio State University and frequently delivers motivational and leadership keynotes and workshops on "The Power of Perspective" and topics including "Decision-Making for Animal Outcome, Care and Treatment," "The Logistics of Drama in the Workplace," "Successful Volunteer Management in Animal Shelters," and "Recognizing and Reporting Signs of Animal Abuse and Neglect."
Rachel describes herself as an "Advantageist," or one who finds the advantages in difficult experiences.  She writes regular blogs and runs TheAdvantageist.com.  Finney operates under the philosophy that we should "never be afraid to do the right thing." She shares her home with her husband, 2 children, 3 dogs, 2 cats and 5 fish.
---
Presenting: "The Power of Perspective:  Finding the Silver Lining When It's Raining Cats & Dogs"
Sometimes a set-back is really a remarkable path forward.  This is a story about shaping our best possible future by changing the lens through which we view our challenges.
Join Rachel D.K. Finney, CEO of Columbus Humane, for an inspiring look at how she and her team leverage adversity and make the best of difficult situations by shifting perspectives.
Conquer any challenge from catastrophic flooding to feline overpopulation with a journey to the bright side.
This session creates an opportunity to consider the "up side of down." Finney, a self-proclaimed "advantage-ist" teaches the audience to consider the advantages of experiencing hardship and the good that can come from otherwise bad situations.
Attendees will receive an advantage inventory and a reflection activity ready for immediate use.
Jen Kelley, PHR, SHRM-CP
HR Consultant, My Business Resource
Jen is a seasoned Human Resources expert who excels at establishing rapport and relationship building within a multitude of industries, including education, manufacturing, construction, distribution, and professional services. Jen is experienced in supporting strategic HR initiatives to help companies improve performance, using practical methodologies and approaches to deliver efficient programs to accomplish business objectives. Jen has her MBA from The Ohio State University, is PHR and SHRM-CP certified and is a Notary Public.
---
Presenting: "Reframing Shame"
Exploring the idea that women in particular interpret and respond to "failure" as a deep, dark secret – a shameful thing - that no one can ever know about.  Why do we do this?  How does this undermine who we really are?  How does this impact the current and future generations of women leaders?
We'll talk about not only how, but why we need to give ourselves permission to tell our story, and to encourage vulnerability – knowing your story may very well be someone else's survival guide.
Christie Engler is an HR practitioner with over 15 years' experience in the field.  Christie has worked with hundreds of small and mid-sized businesses, primarily in the outsourcing space.  Her areas of specialty include employee relations, employment law and compliance, training and development, coaching, process improvement, risk management, and payroll and benefits administration.
Christie is the graduate of The Ohio State University and the Keller Graduate School of Management at DeVry University.  She has earned the SPHR and SHRM-CP certifications.  Christie is a member of SHRM.
Christie lives in Columbus, Ohio with her wonderful husband, James, and their two daughters, Avery and Emily.  She spends a lot of time at Orangetheory Fitness and is a fanatic of Ohio State football.
---
Presenting: Navigating Difficult Conversations
As a small business owner or HR practitioner, you have a lot of conversations.  Often with business owners and high-level leaders.  Daily with employees.
How do you manage the convo when the subject turns difficult?  If you've ever had to introduce a major policy change or initiate a tough discussion with a leader, this session is for you!
Learning Objectives:
Identify difficult conversations in the workplace
Learn how to approach situations while maintaining your strategic position
Gain resources and tools to assist in successful outcomes
Dr. Scott has a Doctorate degree from The Ohio State University College of Veterinary Medicine 2001. Her credentials include:
President Caloosa Veterinary Medical Association 2002 Caloosa Veterinary Medical Society, Lee County Florida
Purchase of Stringtown Animal Hospital 2004
Ohio Veterinary Medical Association "Power of 10" participant 2006
Emerging Leader Entrepreneurial program graduate Franklin University 2018
Dr. Scott has previously participated as a public speaker at Ohio University Lancaster Campus Business Management Technology course guest speaker (2006), Bank of America Small Business Lending Guest Speaker (2006), Ohio State Fair Veterinary Information Speaker (2010 through 2016), Farm Science Review Veterinary Information Speaker (2007 through 2010), Grove City Women's Business Forum (2021)
---
Presenting: "From 3 to 33, Growing Your Team While Maintaining Culture and Quality"
Dr. Ellie Scott will share her experiences and knowledge for creating a foundation of healthy soil that will sow the seeds of strong, happy team members. Fostering fun, systems, and support by planning ahead are only a few of the ways to grow without sacrificing quality. Yep, you read that right. Fun is the most important ingredient!
Thank to Our 2022 Sponsors