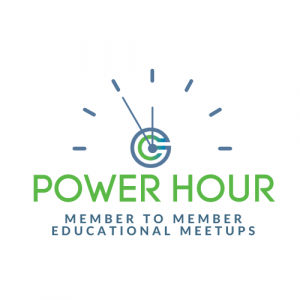 Our monthly educational and networking meeting for local business members
Introducing the Chambers new series POWER HOUR!  Each month the Chamber will host a guest speaker who will share their knowledge and expertise on business relevant topics such as best HR practices, cyber security, workplace safety, mental health awareness, building a stellar online reputation and many others.  Learn – network and enjoy a light breakfast or lunch. Just $10 for GCACC members.
If you would like to become a POWER HOUR presenter, please contact the chamber office:
Power Hour is happening the first Wednesday of every month
Amy Schakat: SWCSD Career Academy
Reimagining the Talent Pipeline: Where is your need? Where can you be flexible? and how can we work together to intentionally connect the future workforce to your current need?
May 4, 2022: 8-9 am (includes breakfast)
$10 for members
Stacy McPhillips, Pencil Point Marketing
5 Tips to Get the Most Marketing Impact in the Least Time
Time is valuable in the life of a small business owner. And often, marketing takes a back seat but it also drives revenue and engagement with your brand. At this workshop Stacy will give you five tips to get the most marketing impact in the least amount of time.
June 1, 2022  from 12pm-1pm (includes lunch)
$10 for members
Virtual Lunch & Learn Special: June 22 at 12 pm
Sheila Davis joined SWACO's Innovation and Programs Team in July of 2021 with the task to help SWACO meet its 75% diversion goal by 2032.  She helps businesses implement recycling programs, reach zero waste and zero landfill initiatives, and supports businesses on their quest to build sustainable recycling programs.
She has a degree in Sport Management from BGSU, a long history of working in manufacturing, printing, and IT as a business development manager, and gained a solid understanding of the waste industry when she spent 5 years at Kimble Companies.  This background allows her to bring a variety of knowledge and expertise to SWACO and to relate with business leaders who want to implement recycling programs that work.
Sheila relocated to Columbus from NE Ohio in 2020 and has 3 rescue dogs. She has a daughter who lives in the Netherlands and a daughter who is an ER nurse at Grant Medical Center. She is a volunteer Girl Scout, an avid upcycler, a savvy thrift shopper, and an amazing paper crafter. If you have questions about travel and how to do it efficiently, she can help there too having visited 40 places in 3 years for one of her employment positions.
Sheila Davis, SWACO
Recycle Right at Work - Basics of Office Recycling
Interested in starting or enhancing an office recycling program? Attend this 30-minute virtual "lunch and learn" which will cover the importance of recycling signage, bin types and placement options for office settings, and how to provide recycling education for employees and maintenance/custodial partners to ensure everyone's aligned and working together towards a sustainable program.