GC Chamber Member Marketing Opportunities
2022 Annual Ad Package Specials
EXCLUSIVE offer for members
Get noticed with an ad in both print and digital advertising, in the new Grove City Chamber Community Guide!
The Grove City Chamber of Commerce and chamber member, NovoPrint USA, Inc., will be collaborating on a new community guide publication for 2022-2023.
The 2022-2023 community guide will reflect our growth and showcase our beautiful, progressive community! We are on the leading edge of business, education, health care, transportation and economic development. This guide is a great tool to communicate information about your business to residents, other businesses and visitors to our community.
As an advertiser, your business will reach thousands through a low-cost-per-view advertising and will be positioned as a community leader and a community supporter.
In addition to printed distribution, this guide will also be available in digital form, hosted online by NovoPrint. It will also be showcased on the Chamber's website. This digital copy will give your business added views, more exposure and further extending your advertising message. View the previous publication here: 
Lori DeLaus will begin sales in person in March 2022, however if you want to reserve space now please call Lori at 585-737-3655 or email her at lori@novoprint.com. Save the date and get your business noticed and keep it successful!
Thank you for your continued Chamber support.
Warm Regards,
Shawn Conrad
Executive Director • Grove City Chamber of Commerce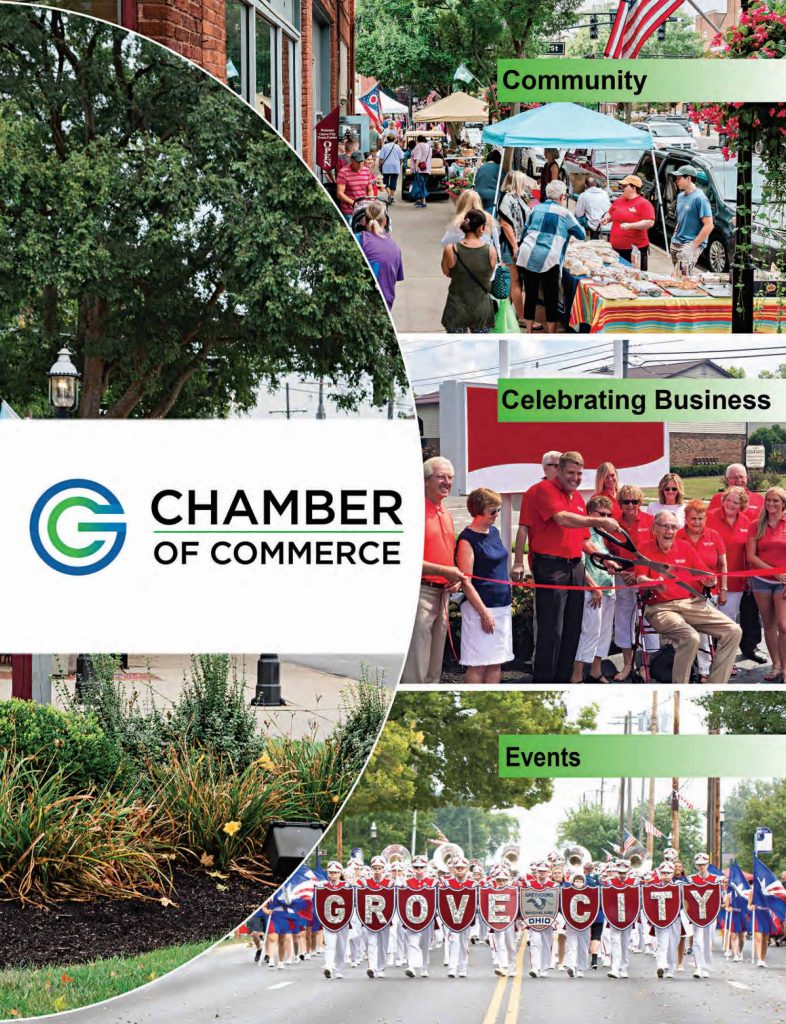 As a member of GCACC you are offered discounted advertising with the chamber Business Connection E-Magazine.
Our Reach
Email: Reaches over 1,000 subscribers weekly

Website: Reaches over 5,000 visitors per month

Social: Reaches nearly 20,000 per month
Need artwork for your ad? Our marketing team can draft artwork for your ad for $35 as a member courtesy or you can provide your own artwork.
Newsletter banner ads on for Chamber Weekly Connection. $75 Banner ads with links back to your website.
Our Reach
Email: Reaches over 1,000 subscribers weekly

Website: Reaches over 5,000 visitors per month

Social: Reaches nearly 20,000 per month
You must provide a high-resolution version of your logo and a link to a website, landing page or sales page where you want your ad to point. 
Are you looking for additional marketing services and support for growth and opportunity? Would you like to advertise in the e-mag or website but do not have your own graphic designer on hand? 
Katbro can offer you marketing and design services at a discounted rate as a Chamber Member. 
You can schedule a 30-minute meeting with a member of our marketing team on a select day each month. 


Website Banner Ads
Grove City Chamber of Commerce now offering Banner Ads! Did you know our site receives over 5,000 visitors each month? Get exposure and customer leads through these affordable digital ads.
Starting at $300/mo* with original artwork included!
Size: 728 x 90 graphic ad with a redirect to your business website or email
*Ad placement: 3 month minimum listing required

The GCACC publishes its business newspaper, Grove City Messenger, each quarter in partnership with the Columbus Messenger. 
GCACC members enjoy discounted advertising rates in Grove City Living by contacting Doug Henry for details at 614-272-5422 or doughenry@columbusmessenger.com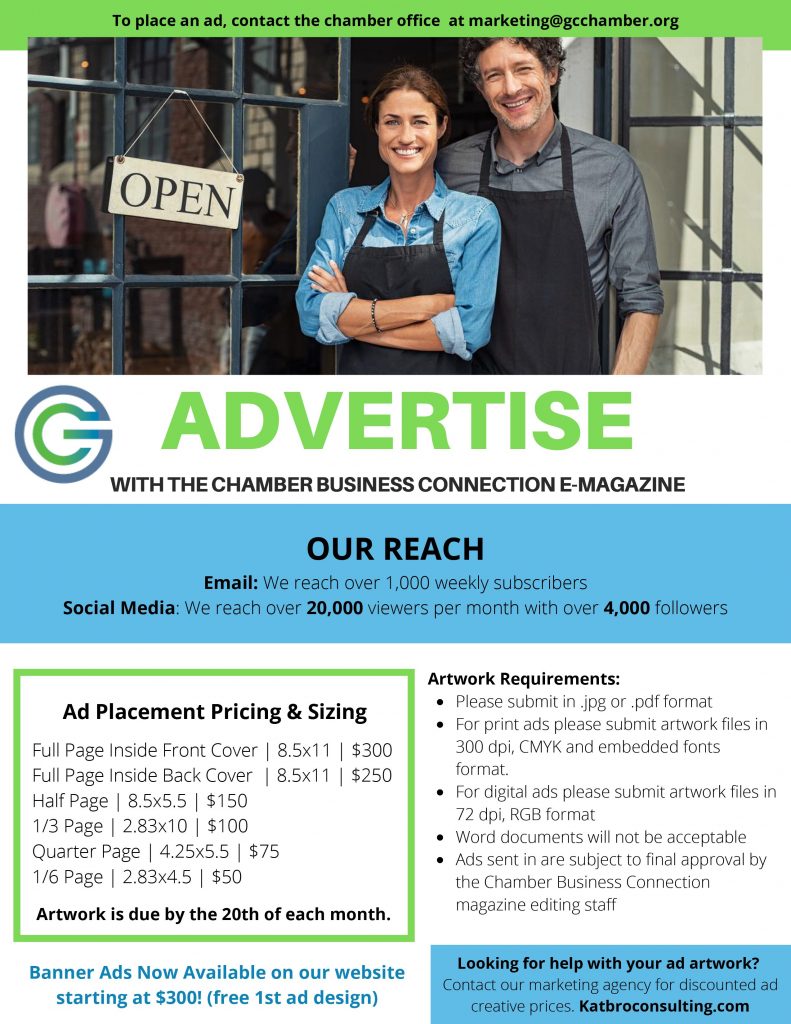 Katbro Consulting Agency supports the Grove City Area Chamber of Commerce with Marketing and Advertising.
KatBro Consulting is a full-service marketing and communication business based in Ohio with a commitment to meeting the business objectives of our clients.  We have partnered with them to bring additional marketing value to our organization and it's members.  Their tasks  her at the chamber include:
Social Media Management
Magazine production
Weekly Newsletter production
Website Master
Public Relations
Branding
Advertising Services
If you wish to meet with a member of our marketing team please contact them at marketing@gcchamber.org