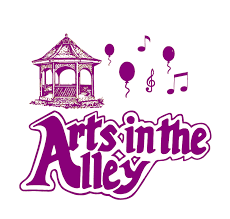 41 Years of Celebrating Art
Thank you to everyone that participated in and supported our first Virtual Arts in the Alley this year! It was a great success and we look forward to next year!
ARTS IN THE ALLEY 2020 "HOME EDITION"
November 14th through December 31st
VENDORS  Get a quick start on your holiday shopping as you stroll through our many juried artist and crafters 'booths' - virtually of course! Nearly every genre of art including wood, glass, fabric, tole painting, seasonal decor, leather, ornaments, jewelry, and much more will be represented this year at Arts in the Alley 2020 Home Edition.

SPECIALTY SHOWS & PEOPLE'S CHOICE VOTING View the amazing talents of local artists in our Fine Arts, Crafts, Photography, Quilt, and Youth Art shows.  Entries will be judged for cash awards AND viewers can vote for their favorites in the People's Choice Awards through Sunday, December 6th.

KIDS' FUN STREET  Budding artists and their families will be able to watch videos featuring demonstrations of fun and simple Art and Craft projects and then make they'll make the projects themselves! Encourage your little artists to watch and create! Supplies will be listed before each project begins and will include common household items.

ENTERTAINMENT  Relax and enjoy the sounds of local bands, singers and music from multiple genres during your visit to the Arts in the Alley 2020 Home Edition.  Enjoy a new artist each day including your favorites from The Voice of Grove City 2019.

CHALK ART CHALLENGE Let your inner artist out!  Our brand new competition is unveiled via Instagram and Facebook... Grab your chalk, your family, friends or neighbors, or coworkers - and your masks of course,  and design your best Chalk Artwork.  This cool competition will run for 5 weeks.  Each week we'll announce a new theme along with the winner for the previous week.  Each week the winners in the youth and adult contests will receive a gift card to a great local merchant. 
Want to sponsor this event?  We have several options available for you.
Attention all Local Artists, Crafters, Photographers, Quilters...